In essence, the device should perform approximately the same thing as its younger sister on 8811, with the only difference that the 8812 USB 3.0 interface, support for two antennas and maximum speeds reach: 400 and 867 Mbps, respectively for 2.4 and 5.8 GHz.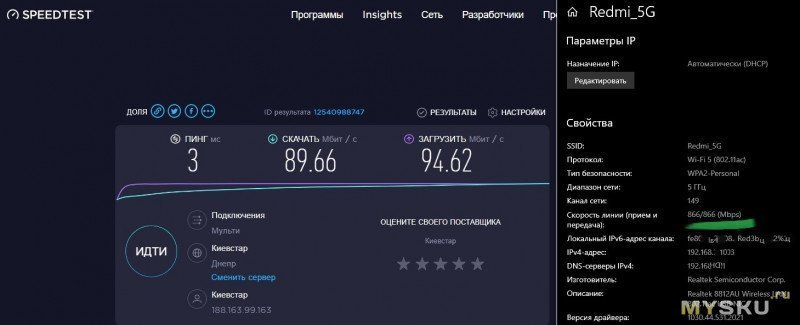 The USB 3.0 port did not give rest, because on the "face" of the PC, where I left it, it is only 2.0 … but how so? after all, the 8811th has been working in it for the second year in a row! With a grating heart, I climbed onto the back wall of the system unit, there the "mother" USB 3.0 … are on the opposite side of the access point, blocked by the case – not the best place for a "whistle" – it looks like a fiasco … it's hard to guess where here whose result is, in fact, in this mode, it is on the verge of error and does not show any advantages … but fortunately and to my joy, it stopped falling off completely – it worked for a week without complaints, 24/7 was "active" and torrents and mining, quite a bit warm (in tom Kebidu, everything boiled in seconds).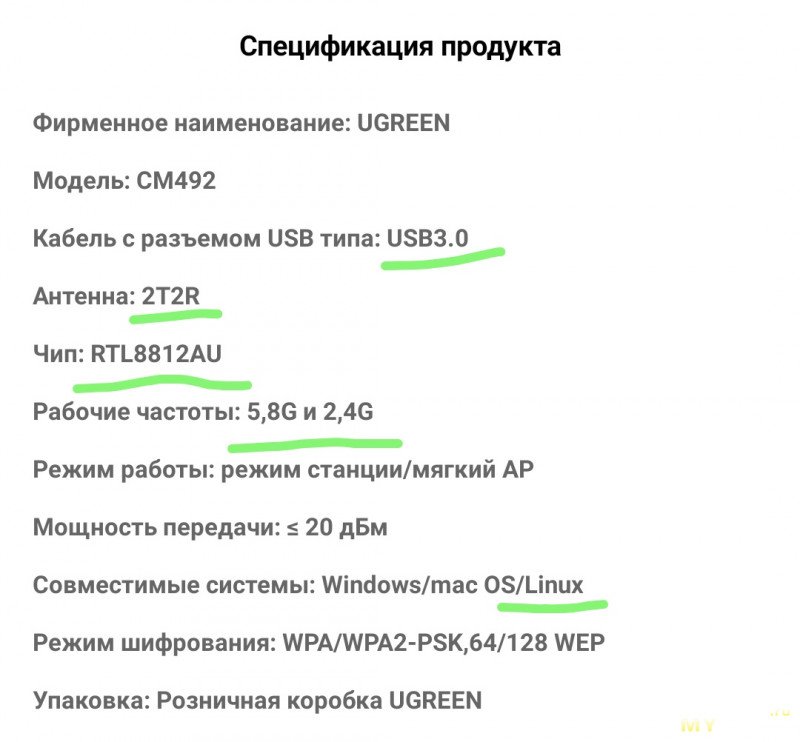 I had to scratch my head… I left mining on it until the morning – it is wiser in the evening) In principle, it has already become clear to me what are the advantages of a large body and 8812 – it is "at long distances" and in bad conditions, it clearly outperforms the opponent by 8811 … The company, frankly, did not strive to make the adapter as compact as possible (it is rather standard, for 8812), did not save space, and the engineer "tied up" the chip as expected – he implemented USB 3.0, a board with integrated "too-ti-to-ar" ( 2T2R) antennas and internal connectors (for external, probably future revisions), Linux has not been canceled:
UGREEN CM492 Dual Band AC1300 Wi-Fi Adapter. 2T2R antennas and USB 3.0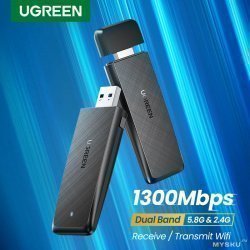 Going to testing, I immediately turned it on as shown in the instructions, on the place of its old and stable Realtek 8811 (600M) – it also shines through the case! The drivers were pulled up by Microsoft from 19, universal and the result in the test on 100 megabit Internet (a faster one is not needed yet) did not please me very much, the same gives 8811 ( I did tests in the 5GHz range) I had to download the drivers from the site (there is no longer a disk drive in the PC and left the bundled disk alone) How to understand if it works or not?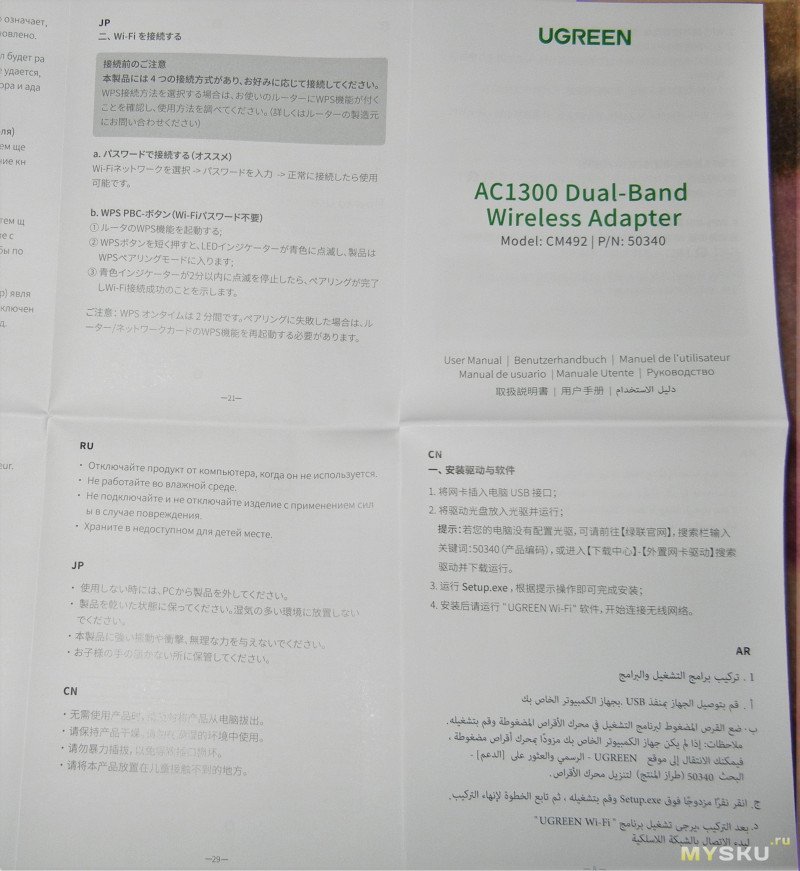 Supplied in a retail package, not a bag and that's goodInside there are two inserts, a disk with drivers and the WiFi module itself in a cardboard box I already told you about a very unsuccessful, dual-band (5.8 GHz / 2.4 GHz) solution on Realtek 8812, it turned out to be not a working USB port plug, and now I have the same RTL8812 in my hands , but in the performance of UGREEN – a rather large AC1300 (CM492) And in the morning I look – the connection has fallen off! Hello everyone. … flashing light and that's it… what a twist! Only the USB 3.0 port is involved in the test (on the photo in it is Ugreen) I installed the drivers from the disk, the original ones and first tried to catch 5GHz Ugreen, it sees the Keenetic-5 network, but unfortunately it loses connection when trying to connect, the maximum I saw the result for 2.4 GHz (Keenetic-4) like this: it's quite normal for two main walls with doorways, not on the wave propagation line … the signal path through the doors looks like the letter "Z" with a distance of ~ 15 meters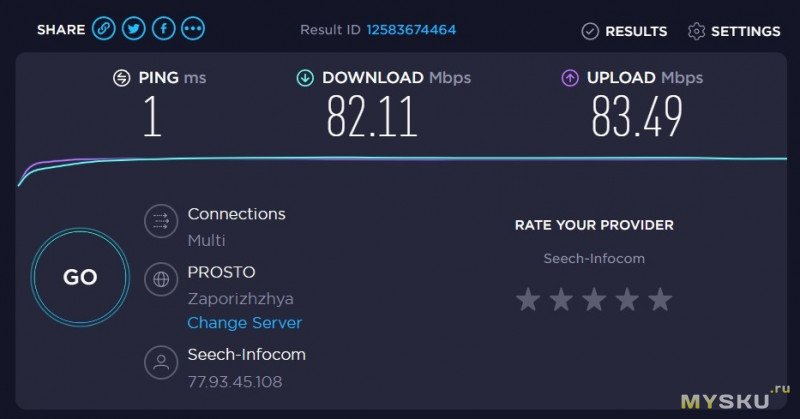 Unpacked. a rather large design, remembering my last, sad experiment with the 1200 module, there is a button on the side, for pairing WPS, there is a damn nice notch on the back side, you can file a manicure) a month of using the device on an ongoing basis. I remembered that at work, the nearest familiar Wi-Fi point barely reaches my PC in the 2.4 GHz range, and 5 GHz is not visible at all – this is a real chance, using a real experiment to establish – the size, whether it has meaning? I found my not stable Kebidu – it is smaller than from Ugreen capHonest connector, 9-pin USB 3.0 (I hope this will help show a more stable result) In the meantime, the result after the reboot slightly improved in numbers, WiFi 5 reaches the declared speeds of 866 Mbps, but still, the result is within the margin of error with the younger RTL8811 Speaking of torrents, below is a screenshot of downloading a torrent file, where the distribution at the beginning was downloaded to the 1300th Ugreen, and in the process switched to the 600th adapter (I checked several times – the error was excluded, there were plenty of distributors all the time) Let's see how everything works here …